A City Gone to the Dogs
As an avid traveler and devoted dog owner, it's always nice to see a city embrace the "pet-friendly" concept. However, Carmel-by-the-Sea gives a next-level bear hug to those who adore their pets and treat them like family members; the seaside town is actually rated the #1 most dog-friendly town in America. (Had I known, I might have tried to sneak mine into my suitcase!)
Our home base for the trip was Hofsas House, a charming inn with a storied history of serving the community as a family-run boutique for the past six decades. One of the only places in the area that offers family suites and connected rooms, they are also pet-friendly with no size or breed restrictions. In fact, I had a very polite Great Pyranees staying next door, who was nearly twice my size and yet, made less noise than a toddler. I'm sure he had the queen bed all to himself!
Despite the central coast's cool year-round temps, Carmel Beach at the end of Ocean Ave., is a consistent draw and highlight. Wander down there in the morning (bring a sweatshirt!) and the cool sand is teeming with locals and their dogs - walking, swimming, playing fetch, pooping - you name it. This is the place to be each morning and evening if you want to catch a glimpse of dogs literally living their best life. For the owners, strategically placed stations of water bowls, showers, and plastic bags ensure you don't take the beach home with you, nor do you leave any "presents" behind.
When you're done having fun down on the beach, continue up Ocean and you'll find yourself in the heart of town, with shopping, restaurants and galleries galore. Glance in either direction and you'll see dogs - strolling, eating, and stopping for water at one of the many bowls shop keepers leave outside with fresh, cool water.
The NYT doesn't lie. Despite the fact that it's only one square mile, Carmel-by-the-Sea offers the kind of high-end-yet-quaint shopping experience that's becoming a rarity in big box America. Due to city ordinances, no chain stores or restaurants are allowed, nor is any corporate signage (this made finding the one gas station and ATM a little difficult). With the exception of one or two touristy tchotchke shops, the galleries and boutiques offer a personalized, small-town experience. Adding to the charm is the fact that many people stroll through the shops with their pets and no one blinks an eye (except for the tourists).
While there are tons of places to explore with your pets, these are a few that I personally, had the chance to visit:
Carmel Belle - A delightful, casual cafe serving mostly organic, locally-sourced food. Perfectly located adjacent to great shops and boutiques with indoor and outdoor seating available. We had a divine lunch of fresh sandwiches and salads, and homemade cookies for dessert. I had a Golden Latte (with almond milk, turmeric and honey ) that I would consider making another cross-country trip for.
Get your shop on: CB's location in the Doude Arcade means that as soon as you've brushed the last last cookie crumb from your lap, you can start working your wallet. I went next door to Blackbird Art, a charming boutique with a lovely mix of handmade jewelry, paper goods, shawls and scarves, and (of course), pet trinkets. I picked up two cute tags for my German Shepherds, Lobo and Tyler.
As there are plenty of cafes and coffee shops along the main drag to revive thirsty shoppers, it's only fair that refreshments are available for their canine companions. The Carmel Plaza, another main shopping hub, has a drinking fountain just for four-legged patrons called, The Fountain of Woof. I mean, it doesn't really get better than that.
Diggidy Dog - An adorable boutique fit for canine kings and queens. Here, you'll find leashes, collars, booties, sweaters and naturally, organic dog treats and biscuits for all the pampered pets in your life. This is the perfect shop to pick up unique gifts for the dog-lovers in your life. I enjoyed just walking around and seeing all the beautiful things.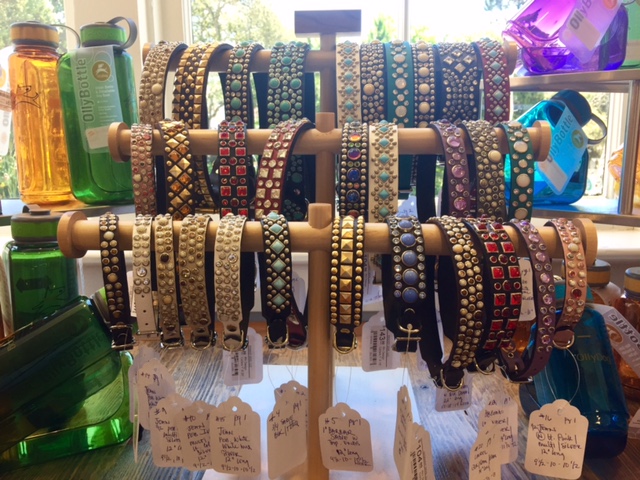 Collars and leashes to fit every canine personality. Limited suitcase space meant taking pics of items I wanted to order online once I got home.
I also popped into LUSH cosmetics (which had the friendliest staff EVER), Carrigg's of Carmel (where I purchased an adorable trinket box featuring - what else? - a dog), and the Patricia Qualls Contemporary Art gallery in the Carmel Valley, where we had a lovely private tour and wine tasting, accompanied by Buddy, the cat-in-residence.
And while I didn't witness it personally, I heard rumors of doggie room service offered at particular hotels, special menus at restaurants, and doggie day spas where pets can get a massage to ease the tensions of the day (HA!). For the more adventurous and athletic, there are numerous hiking trails and bike paths you can tackle. The climate allows for year-round activities, so the next time you are itching to travel don't bother boarding the dogs, you can both enjoy California's central coast.